Sublime Surf: Chris Burkard captures Pain & Beauty of Arctic Surfing
Willona M. Sloan
Surf photographer Chris Burkard has built his career chasing the perfect shot. That quest for perfection has driven him obsessively to the ends of the Earth, seeking the exquisite symmetry of surfer, swell and sky. But, rather than exotic beaches, Burkard's journey has led him to some of the coldest, most remote and most inhospitable places in the world. "Harsh" and "unforgiving" are two of Burkard's favorite descriptors for a surf locale.
In his short film, "Under an Arctic Sky," Burkard and filmmaker Ben Weiland document an insane journey to surf the remote fjords of northwest Iceland.
"It all started with a wild dream that emerged on a trip for Surfer Magazine to the Faroe Islands over two years ago. I was with surfer Justin Quintal—the same surfer who would come to Iceland with me to try and make this dream a reality—and I told him of my pipe dream to photograph it. I wasn't even sure if it was possible. In fact, at the time, in 2014, I'm not entirely sure it was. The camera technology just wasn't there yet," said Burkard.
Burkard talked U.S.-based surfers Quintal and Timmy Reyes into joining Sam Hammer, a cold-water surfing veteran, and Iceland-based surfers Ingó Olsen and Heiðar Logi (Iceland's only pro surfer), into an adventure that quickly turned into a calamity, as the biggest blizzard to hit Iceland in 25 years rolled in. The mix of drama, danger, amazing rides and stunning scenery make the film a triumph.
There were multiple points where the team could have, and should have, given up and headed for home, but they couldn't make themselves turn back, despite the white-out road conditions, the hypothermia-inducing ocean temperatures, the pummeling winds or their own fatigue.
"With three hours of light each day, brutal winter storms and freezing temperatures, Iceland is far from the ideal surf trip. But winter provides the most ideal conditions for surf in the country, and our main goal for the trip was simple: to find world-class surf," said Burkard. "Not only did we find what could be the best cold-water waves I've ever seen, but we began to realize that perfect waves would peel off after dark, and the possibility of surfing them while the northern lights illuminated the Arctic sky was a real possibility."
Spoiler alert: The ending of this movie is truly one of the most beautiful scenes you will ever see. The northern lights are a natural phenomenon. They are fleeting and spectacular, and you certainly can't plan a shooting schedule around them swirling over the ocean.
"Walking away from the trip, there were a lot of lessons to be learned. With all the planning and gear preparation, the trip had many unforeseen circumstances, and the only way I was able to make it happen was by being open to letting the trip deviate from the plan," said Burkard.
"Traveling to north Iceland was simply another opportunity to push myself into a location that was more remote, more harsh and more unpredictable than many of the places I have been to."
At 19, Burkard, quit his job to pursue surf photography. In his TED Talk, "The Joy of Surfing in Ice-Cold Water," Burkard, now 32, explained that he soon grew bored of crowded beaches. "The more time I spent traveling to these exotic locations, the less gratifying it seemed to be. I set out seeking adventure, and what I was finding was only routine," Burkard told the audience.
Only one-third of the Earth's oceans are warm, which left many more options for surf-able waves to be found in the roughest waters of cold-water climates. In Iceland, he found natural beauty and amazing waves that kept calling him back. He felt as though he had stumbled onto one of the last quiet places in the world. A place where he found both clarity and connection with everything around him. A place where he felt free.
"I began craving wild, open spaces," said Burkard in the TED Talk. For him, that meant scouring maps for uncharted surf territory in Russia, Norway, Iceland, the Faroe Islands and Alaska. He relishes the challenge of finding a location on Google Earth, plotting the team's arrival by helicopter, boat or off-road vehicle.
Photographing cold water surfing has taught him to suffer. From standing in snow with brittle hands and chapped lips to shivering in the water, that suffering makes every frame feel earned. In the short film "Arctic Swell: Surfing the Ends of the Earth," by SmugMug, Burkard said the unbearable moments lead to the most spectacular art.
"I know that the surfers are out in the water, suffering just as much as I am—if not way more—so I feel like you have this extremely heavy task on your shoulders of making sure that you document what's going on accurately and appropriately, and doing them justice, because you're only going to get so many moments," said Burkard in "Arctic Swell."
In addition to the mysterious and sublimely beautiful landscapes he chooses, what makes Burkard's photography so special is his emphasis on natural light, which gives his photos a sun-kissed brilliance, and in some cases even an ethereal quality.
"For me, personally, natural lighting is everything in my photographs," said Burkard. "In most of my photos, I have a pulled-back composition, so I can show the whole environment. It is important for me to have a well-composed foreground, a subject in the middle ground and an epic background to tie the whole image together. I am usually shooting into the sun, towards a mountain range or into something monumental. I want to transport the viewer directly to where I am shooting, so that they get lost in the picture."
The journey, the pain, the sacrifices—breaking free from the boredom he was feeling (even though he was seeing some of the most enviable views in the world) allowed Burkard to develop his signature artistic style.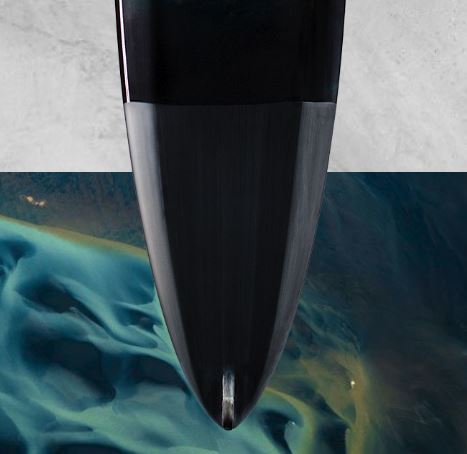 album surf x chris burkard
Chris Burkard collaborated with Album Surf to develop a set of six stunning surfboards featuring photos of Iceland's Hálendið (central highland) area. Check them out here.
"My advice is to be bold and to approach each situation as a way to grow. Focus on what inspires you, more than just trying to shoot assignments that would make editors happy," said Burkard. "Once I started working on projects that ultimately led me to cold places involving massive risks, it brought about a greater sense of joy and fulfillment in my life, and subsequently, my career."

Visit www.chrisburkard.com


Willona M. Sloan is a writer, editor and literary host. She is the curator and managing editor of Black Coffee & Vinyl Presents. Willona has received two Artist Fellowship awards from the DC Commission on the Arts and Humanities and residencies from Banff Centre for the Arts in Alberta, Canada; Sparkbox Studio in Ontario, Canada; and the Gröndalshús Writer's Home in Reykjavík, Iceland. She is an alum of the VONA and Hurston/Wright writing workshops. She teaches creative writing workshops, using literature to foster cultural understanding, and she has led workshops in the U.S., Canada, Iceland and virtually in Serbia. See more here.